Show Endomondo workout on WordPress with EndomondoWP
Endomondo is a sports community based on free real-time GPS tracking of running, cycling, etc. Bring your mobile on the track and get a complete training log. You can show your workout on WordPress with EndomondoWP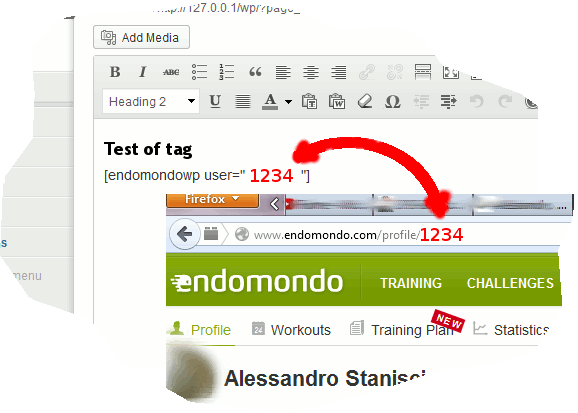 Download the plugin from WordPress Site, install it and add EndomondoWP on page/post.
It's easy, add the shortcode endomondowp user="XXXX"  and swap "XXXX" with your Endomondo ID. You can found your id on URL of your endomondo profile
(es http://www.endomondo.com/profile/XXXX )
I'm glad to announce the release of a new version with much more views to include in your blog! You can look at this short tutorial to see how it works… Enjoy the show!!!
Configure it
If you want to control the view, you can add attributes on shortcode, it depends of type of view… for example for last-workout you can add
[[ endomondowp id="my_id_ewp" user="1234567" type="last-workout"  width=500 height=200 ]]
user: The endomondo User ID
type: The type of view (default is 'last-workout')
id: unique id of element (default is random number)
width: the width of page (default is 680)
height: the height of page (default is 600)
This is the possibe type of views:
For designers
If you want to customize the style of view, you can add css and use the hook!!
The short code
►
HTML
endomondowp id="my_id" user="XXX"

►
<div id="my_id_ewp_div" class="ewp_div" >
<iframe id="my_id_ewp_forum_embed" class="ewp_iframe" ...
></iframe>
</div>
For developer
You can use the EndomondoWP on your plugin! Otherwise you can use it on your current theme. In according to Codex, you can modify the current theme with "Child Themes « WordPress Codex",
with a new "Page Templates « WordPress Codex" or simply modify directly the php file of theme. In any of this case you can add a invocation of function and you will have same action of shortcode.
Also the parameters of function are the same of shortcode.
Otherwise on your plugin or on your function.php you can add one hook to one of 4 action and you can run your custom code.
The allowed action are show below and all action have the same parameter of do_endomondowp(…) function:
pre_ewp_show action. It's called before do_endomondowp(…) function
post_ewp_show action. It's called after do_endomondowp(…) function
pre_ewp_shortcode action. It's called before invocation of all shortcode [endomondowp ...]
post_ewp_shortcode action. It's called after invocation of all shortcode [endomondowp ...]
Installation
EndomondoWP can be installed using integrated WordPress plugin installer or manually.
Integrated installation on  WordPress plugin installer method
Go to Plugins > Add New.
Under Search, type in 'EndomondoWP'.
Click Install Now to install the WordPress Plugin.
A popup window will ask you to confirm your wish to install the Plugin.
If this is the first time you've installed a WordPress Plugin, enter the FTP login credential information. If you've installed a Plugin before, it will still have the login information.
Click Proceed to continue with the installation. The resulting installation screen will list the installation as successful or note any problems during the install.
If successful, click Activate Plugin to activate it, or Return to Plugin Installer for further actions.
Manual installation method
Upload 'EndomondoWp ' folder from EndomondoWp.zip file downloaded from EndomondoWp WordPress plugin directory page to the '/wp-content/plugins/' directory.
Activate 'EndomondoWp' plugin through the 'Plugins' menu in WordPress.